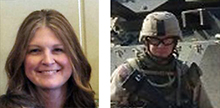 To Whom It May Concern:

Our dad, Tom Berry, is running as the incumbent for House District 40. This is our dad's fourth campaign, and my brother, Ryan, and I have never before written a letter to any paper on his behalf. However we now feel obligated to write due to the misleading propaganda being put out by Ray Gorham and his campaign against our dad. Mr. Gorham has brought our family's tragedy into his campaign and is exploiting it to make political hay that our dad is anti-gun. Our father is extremely pro-2nd Amendment. He, we, and our families, are avid gun sportsmen and hunters, and we believe in the right to self-defense. Tom Berry taught my brother and I about gun safety and had us target shooting when were just waist-high. In fact just yesterday, May 11th, he took my husband and our little boys shooting for the afternoon. To say he is anti-gun is just plain wacky.
So where does Mr. Gorham fit into all of this? He is trying to tie the murder of our dad's son, and our 17 yr old half-brother, Steve Berry, to Tom Berry's supposed anti-gun stance. I was shocked last night to read these statements on Mr. Gorham's website, "I'm truly sorry for his [Tom Berry] loss, but that doesn't justify having a bad record on gun control…" That is just mind-numbing, but furthermore what the heck is he even talking about? It appears that Mr. Gorham is using the loss of Steve to gun violence (he was killed by a drug dealer in Glendive in 2000) as some weird evidence that our dad is an anti-gun zealot. Ryan and I take insult to this ridiculous leap of twisted logic, and we are disgusted that Mr. Gorham would bring this family tragedy into the campaign to try and support his outright lies. It is shameless, classless, and not something I would expect from a true Montanan. But then again Mr. Gorham isn't from Montana, is he? According to his website, he has spent most of his life in his native Canada, other countries around the world, and the state of California. I guess this latest tactic shouldn't surprise me.   Why don't you try to keep it honest and clean, Mr. Gorham? This is politics at its lowest.
Michelle Weiland, Billings, MT
Ryan Berry, Lewistown, MT